Technology & News
ASUS ROG Phone 8 Release Date, Price, Specs, Rumors, and What We Expect So Far
ASUS ROG Phone 8: A Glimpse into the Future of Gaming Phones
ASUS ROG Phone 8 Release Date: In a world where gaming on the go has become more popular than ever, the ASUS ROG Phone series has stood out as a beacon of innovation and performance. With the recent launch of the ROG Phone 7 series in 2023, gaming enthusiasts are already looking ahead to what the ASUS ROG Phone 8 series might bring in 2024.
In this article, we'll delve into the credible rumors and our wishlist of features for the upcoming ASUS ROG Phone 8.
Will there be an ASUS ROG Phone 8?
ASUS has been consistent in its annual releases of ROG Phones since the inception of the series in 2018. Despite the evolving landscape of gaming devices, with flagship smartphones incorporating gaming modes and powerful chipsets, ASUS remains committed to catering to the unique needs of gamers.
The ROG Phone series has established itself as a leader in the gaming phone market. Therefore, unless there's a significant shift in ASUS's strategy, it's reasonable to expect the ASUS ROG Phone 8 series to debut in 2024.
ASUS ROG Phone 8 Release Date:
Predicting the exact release date of the ASUS ROG Phone 8 can be challenging. Looking at the release history of its predecessors, ASUS has launched new ROG Phones in different months over the years. While the general timeframe typically falls in late Q1 or sometime in Q2, there's no specific month that can be pinpointed as the "ROG Phone month."
ASUS ROG Phone 3: July 22, 2020
ASUS ROG Phone 5: March 10, 2021
ASUS ROG Phone 6: July 5, 2022
ASUS ROG Phone 7: April 13, 2023
It's important to note that ASUS tends to announce its products globally and then gradually roll them out in North America, causing a delay of several months before U.S. customers can purchase them. For instance, the ROG Phone 7 was unveiled on April 13 but didn't become available in the U.S. until June 15, approximately two months later.
Rog Phone 8 Specs and Features to Expect
While it's still early in the rumor mill, we can make educated assumptions based on previous ROG Phone releases.
Design: The design language of ROG Phones has remained consistent, characterized by their imposing size, uninterrupted displays (no notches or camera cutouts), and prominent ROG branding on the back. Features like the secondary adapter for peripherals and the mechanized cooling port are likely to persist in the ASUS ROG Phone 8.
Specs: Expect the ASUS ROG Phone 8 to pack the latest Qualcomm mobile processor, likely the Snapdragon 8 Gen 3, as previous models have featured fresh Qualcomm chips. ASUS may also offer a variant with a MediaTek processor, although these typically don't launch in the U.S.
The ROG Phone 8 Ultimate, spotted on a Geekbench listing, hints at an octa-core processor, possibly the Snapdragon 8 Gen 3, with a 1+5+2 CPU architecture, 16GB of RAM, and Android 14 out of the box. Given the gaming focus of ROG Phones, high RAM capacity, like its predecessors, is probable.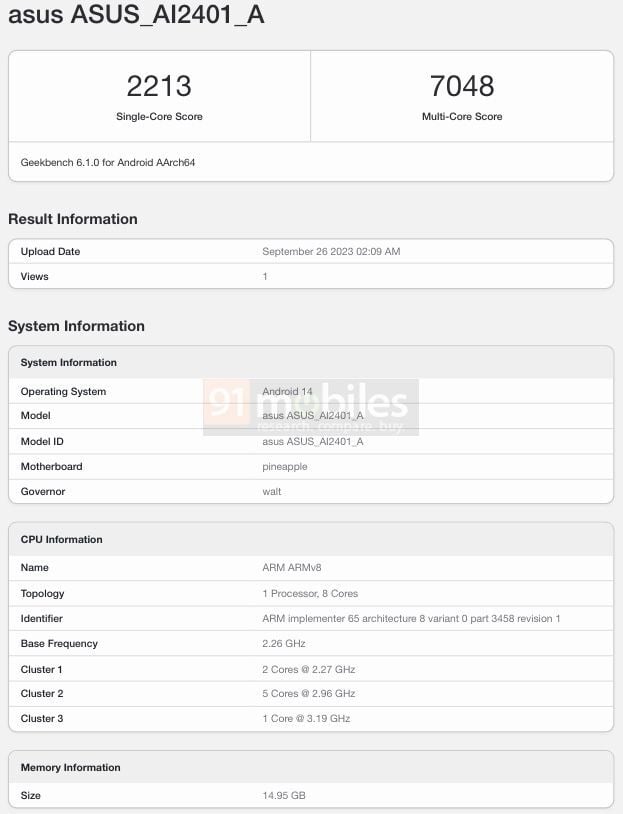 Cameras: ASUS has consistently offered good but not exceptional camera systems on its ROG Phones. Expect a higher-end primary camera, a mid-range ultrawide lens, and a basic tertiary lens. While these cameras are sufficient, they may not compete with the best camera phones on the market.
Additional Features: ASUS is likely to retain features like the 3.5mm headphone jack, a substantial battery (possibly 6,000mAh), at least 256GB of internal storage, a high-refresh-rate display (144Hz or higher), and fast wired charging.
Asus ROG Phone 8 Price Expectations
ASUS has traditionally priced its ROG Phones starting at $999 for the base model. However, higher-tier versions with more RAM and storage are available at higher price points.
Therefore, anticipate the entry-level ASUS ROG Phone 8 to start at $999, with options to upgrade for more premium features.
ASUS ROG Phone 3: $999 (Starting Price)
ASUS ROG Phone 5: $999 (Starting Price)
ASUS ROG Phone 6: $999 (Starting Price)
ASUS ROG Phone 7: $999 (Starting Price)
ASUS ROG Phone 8: $999 ( Expected Starting Price)
Should You Wait for the ASUS ROG Phone 8?
The decision to wait for the ASUS ROG Phone 8 depends on your priorities. If you're primarily focused on gaming performance, the incremental improvements in the Snapdragon 8 Gen 3 may not justify waiting. The ASUS ROG Phone 7 Pro and ROG Phone 7 Ultimate are already formidable gaming phones and might be available at discounted prices.
However, if you're looking for potential enhancements in design, cameras, or other features, waiting for the ROG Phone 8 could be worthwhile. It's possible that ASUS might introduce new design elements or camera improvements to cater to a broader audience, including casual gamers.
For those open to alternatives, the Nubia RedMagic 8S Pro offers similar specs at a slightly lower price point. Alternatively, flagship smartphones like the Samsung Galaxy S23 Ultra provide a well-rounded experience with superior cameras and extensive software support.
ASUS ROG Phone 8: What We Hope to See
While the ASUS ROG Phone 7 is undeniably an excellent gaming phone, there's always room for improvement. Here are some features we hope ASUS considers for the ROG Phone 8 series:
Wireless Charging: ASUS has consistently omitted wireless charging from its ROG Phones. We hope to see the inclusion of this standard flagship feature in the ROG Phone 8, as it's highly sought after by consumers.
Improved Cameras: To appeal to a broader audience, ASUS should focus on enhancing the camera system. While the existing cameras are decent, an upgrade could make the ROG Phone 8 a more versatile device.
Enhanced "Ultimate" Version: The "Ultimate" model should offer more compelling differences from the standard version. ASUS could consider longer software update commitments, improved cameras, a higher-resolution display (1440p), or even a microSD card slot to justify the premium price.
Final Words: ASUS ROG Phone 8 Release Date
The ASUS ROG Phone 8 series is expected to continue the legacy of gaming excellence set by its predecessors. While specifics remain speculative, ASUS's commitment to delivering top-tier gaming experiences suggests that the ROG Phone 8 will be a smartphone worth waiting for, particularly if you're seeking improvements in design, camera performance, or unique features.
As the gaming phone landscape evolves, ASUS is likely to adapt and innovate to maintain its position as a leader in the field.
Related Articles: